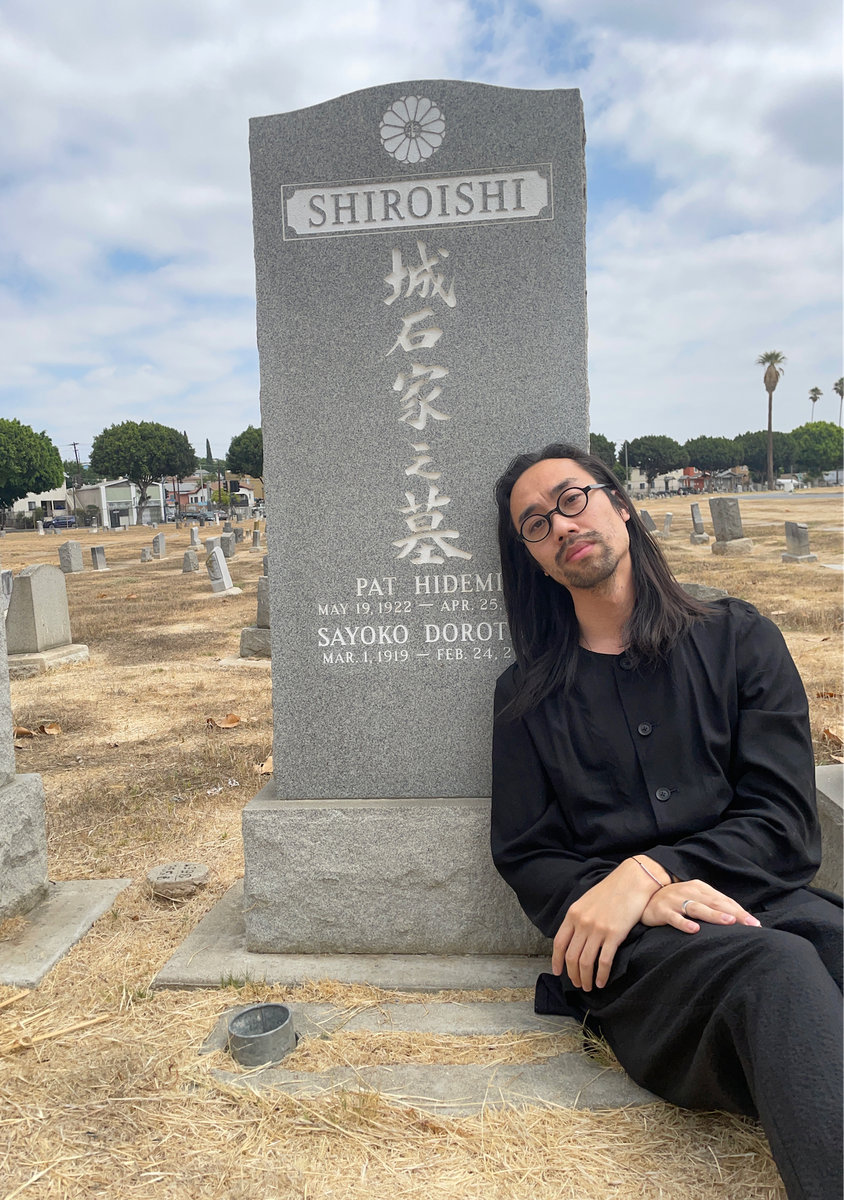 Patrick Shiroishi
American Dreams Releases:
saxophone player in:
corima
upsilon acrux
nakata
in the womb
oort smog
sunreader
danketsu 10
kogarashi & borasisi
patrickshiroishi.com
A single saxophone, a glockenspiel, two microphones, a zoom recorder. These are the materials Patrick Shiroishi brought down with him late one night into the cavernous parking structure below a hot pot restaurant in Monterey Park. It was around 1:30AM; the spot was not too far from where Shiroishi grew up, a blank slate shown to him by his dear friend, Noah Klein. A vacant space for a new kind of collaboration—between saxophone and silence, between noise and reverberation, between negative space and self.
In a single, improvised take, Shiroishi recorded his third solo LP, I was too young to hear silence. The record plays like a stripped-down ode to its star instrument. Solo saxophone dazzles and cascades through tangible air, each note hugged and trailed by a lush, natural reverb. Each silence, of which there are many, feels deliberate, sustained, honored.
There is an intentional arc to I was too young to hear silence. The first track, "stand still like a hummingbird," opens with fourteen seconds of quiet before horn emerges, cautious and patient. Breathy, staccato punches of saxophone cut through the air, backdropped by audible gushes of running water. The sound of someone in the distance cleaning up at the end of a long night.
In describing the record, Shiroishi brings up Ma, the Japanese concept of negative space, or space in between. . Ma refers to the notion of negative space as a positive entity, rather than an absence of something else. The pauses between notes are not empty vacuums void of substance, but rather are full and present, valid contributions to a balanced composition. "The title [I was too young to hear silence] kind of refers to when I was younger…I would fill all the space with as many notes and as loud of volume as I could," Shiroishi explains. "Not saying that there's any wrong way to play, but for me, after a while, I was confused with what I was trying to say." There is a confidence to silence, an assuredness to pausing. Silence leaves room for contemplation after each note. Nothing is hidden. "This is an honest record," he says.
The next few tracks expand sonically, building gradually in volume and intensity. Shaky horn wails on "tule lake blues" reach higher and higher, moving through tones from low hearty sobs to impossibly high creaks, sustained in their yearning. Crescendos build generously before gifting the listener, once again, with a moment for reflection.
In preparing for the album, Shiroishi delved deeply into the world of Japanese free improvised, solo saxophone records. "There's this one I found by Masayoshi Urabe, he recorded this fifty-minute or hour-long solo saxophone thing. I downloaded it, and I was skipping through it to see what it was like, and every time I clicked, it was just nothing. It was silence. And I was like…did I download the wrong thing? And then, eventually, I had time to sit and listen to it. And that really opened things up."
In "rain, after running away", a twinkling minimal glockenspiel line emerges from the rest. The sound is refreshing, like drops of clear water. "I love the sound of the glockenspiel," Patrick explains. Plus, "it's kind of easy to play with one hand while I'm playing the sax with the other."
"hunting the eye of his own storm," the penultimate track, features five minutes of quick-moving, exuberant saxophone arpeggios, a breathless climax to the spacious arc of the album. "I like a payoff at the end of things. I love a slow burn, for better or for worse." Shiroishi admits. "It's like, alright, thanks for bearing with me…here's the exclamation point." ! This time, the bars of unending noise feel like a song of triumph. The exclamation continues into the final track, "if only heaven would give me another ten years." Full, melodic horn lines overlap and dance until they reach their end, quieting down into nearly inaudible whispers, like distant echoes traveling through the night. No longer is Patrick Shiroishi too young to hear silence. And neither are we.
I was too young to hear silence is released in companion with the second edition of Tangled. The publication, which collects stories, poems, and other forms of written word by Asian-American artists and musicians will be available alongside the record, out November 10th on American Dreams Records.
credits
releases November 10, 2023
Patrick Shiroishi - alto saxophone and glockenspiel
artwork by Nancy Kwon
essay by Brandon Shimoda
recorded live underneath the Jazz Cat in Monterey Park, CA on the evening of the 28th of October, 2020
mixed by Felix Salazar
mastered by Andrew Weathers