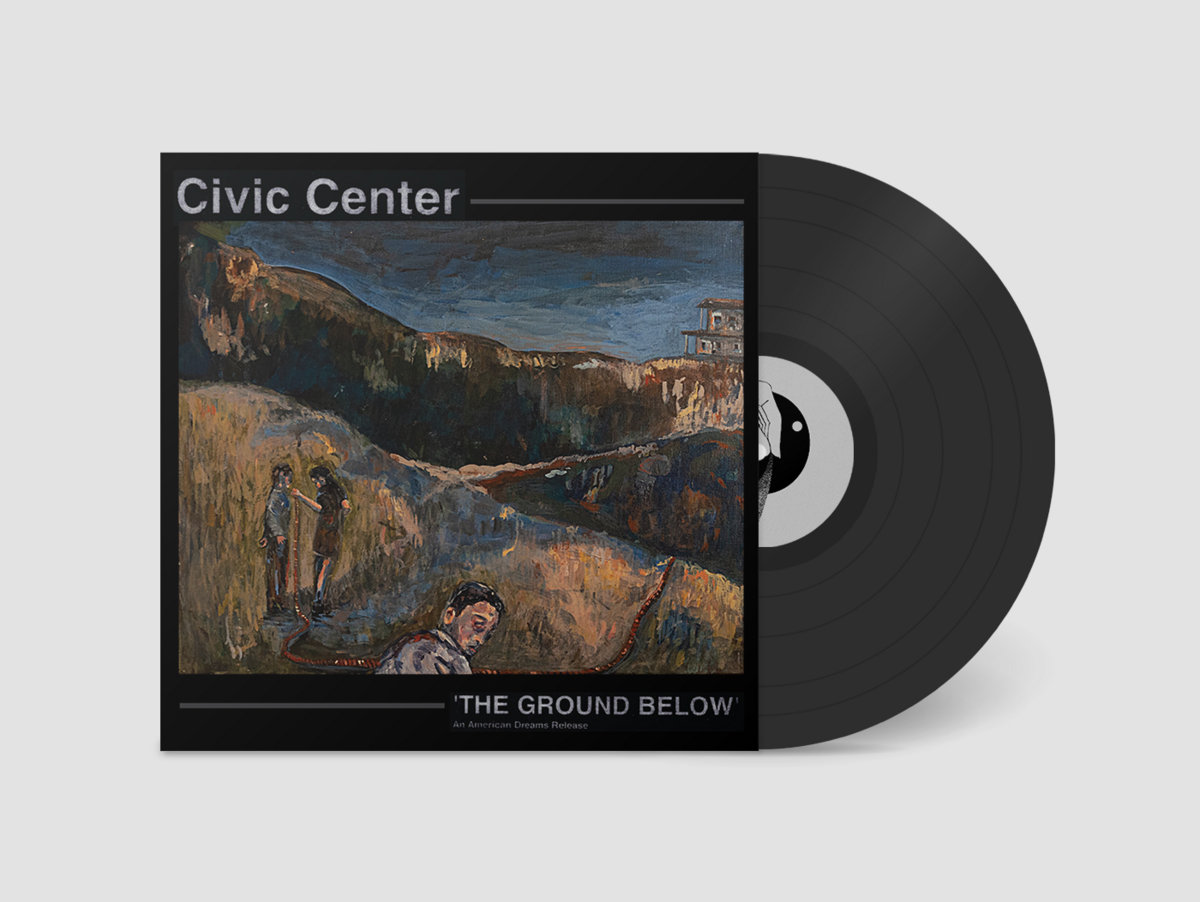 All physical media comes with a digital download card
Civic Center
The Ground Below

1. High Beams
2. Fly On The Wall
3. What We're Made Of
4. The Prophet
5. Golden Days (Interlude)
6. You Know What This Means
7. Study Of Light (Interlude II)
8. Pencil And Pad
In the brief time they've been around, Chicago industrial trio Civic Center has dropped five collections of seething electronic music, but it's all led up to their debut LP The Ground Below in which they take the most thrilling aspects of their creative process, up the production value, and add a slight pop sensibility. "Musically we're constantly striving to find the harmony and disharmony between electronic and organic elements," explains frontman Jack Brockman, "trying to inject something unusual into industrial."
Brockman, who also painted the album's cover, nods to disenchantment as a dominant theme - the vapidity of social graces, the catch-22's in hive mind morality, the intersection of ethics and brutality. That explanation, while prescient, fails to mention the group's collaborative and community-driven efforts. Civic Center is comprised of three individuals central to Chicago label and arts collective Chicago Research. Brockman plays music as Understudy and does much of the label's visual art, bassist Clementine Wink plays as Hen of the Woods, and synthesist Blake Karlson is the de facto head of the imprint. The label functions family style - Chicago Research whips out out batches of tapes from close friends, throws parties, and creates an inclusive environment for populations who have historically been othered by industrial culture.
Like Chicago Research, Civic Center balances bleakness and persistence - The Ground Below is emblematic of that duality. On "Fly on the Wall," the trio take their industrial trappings to a kinetic place - a compulsively danceable beat and pulsing bassline hold the track down until its catchy, synth-heavy chorus rears its head. "Six times is never enough/Fly on the wall," Brockman moans deeply. Civic Center is always groovy, even when the tempos slow down, and songs like "High Beams" and "Pencil and Pad" are ideal for head bobbing and subtle sways, adding atmospheric wind instruments to Brockman's low wail.
Civic Center maintains a firm hold in the industrial tradition, and their music may be dark, but it isn't nihilistic. On The Ground Below, they still exist in the shadows, but the shadows have never looked more alluring.
released June 26, 2020