All physical media comes with a digital download card.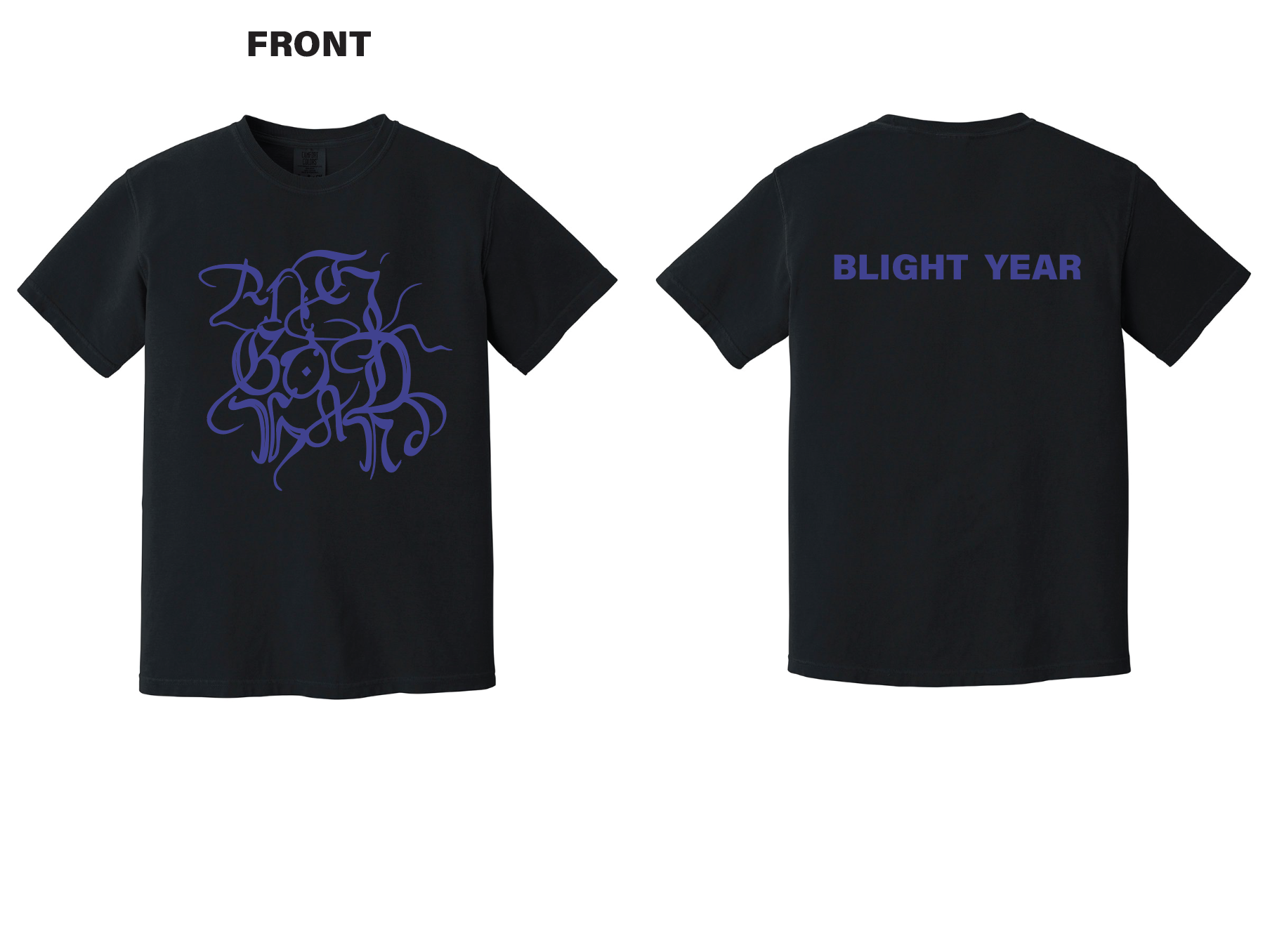 Anti-God Hand Blight Year
| | |
| --- | --- |
| 1. | Out of the Tunnels, Into the Heavens view |
| 2. | Barge of Light |
| 3. | The Horde at the End of Language |
| 4. | Endless Brightness |
| 5. | Demon Sniper |
| 6. | Warped and Opalescent Swords |
| 7. | Chaoscene Hell |
| 8. | Hyperincursion of the Theocentre |
| 9. | Held |
"If anything, it's an optimistic record," says Vancouver musician Will Ballantyne on Blight Year, "but there's struggle, too." Ballantyne wrote the album—his second as Anti-God Hand—in 2021, on the heels of a hyper-prolific period for the project and a difficult summer in which he came face-to-face with the climate crisis as personal struggles loomed overhead. "I had just finished a season working in the bush when I wrote the album," Ballantyne says, "after a very brutal summer climate-wise, bear-wise, money-wise. We were doing these insane climbs every day on super steep, unstable slopes in 40-degree-C heat for sixty dollars each. For several days British Columbia was the hottest place on earth. A town I sometimes worked in burned to the ground. I was in a really bad place personally and financially, and everything seemed totally destroyed and forlorn."
Blight Year emerged from this period like a gemstone from coal. Ballantyne is an in-demand performer, and has developed his prodigal compositions as writer (writing and performing as City) and interpreter (performing with Chinese endurance performance art collective TRANCE). Where past A-GH releases blended live and synthetic elements, on Blight Year, Ballantyne enlisted engineer Colin Marston (Krallice, Indricothere, Gorguts, etc.) and powerhouse drummer Greg Fox (Liturgy, Ben Frost, Colin Stetson) to provide an added human element. The result is an ideological and sonic crystallization that pushes Anti-God Hand's cosmic black metal into something still more emphatic, distinctive, dynamic.
Don't get it twisted: the album's still a bulldozer. Even the warm synth melody that opens "Out of the Tunnels, Into the Heavens" sounds massive. Here, in rapid-fire drums, bristling guitars, howling vocals and pummeling repetition, Anti-God Hand invokes a cascading arpeggiated glory that conjures both the infinite and the infinitesimal. Here is the double-edged sword of emptiness and space—between darkness, coldness, depression, and the wealth of possibilities inspired by a look at the sublime. Ballantyne compares the universe and the psyche: both are unmapped vessels that reward inspection and thoughtfulness, even when that process brings pain.
While Anti-God Hand's debut album Wretch often used mythologies of human/nature hybrids to represent alienation and loneliness, Blight Year subverts such black metal tropes for perseverance and wonder. Musically, the album is an acceleration of all that Anti-God Hand explored in 2021, veering from pummelling odd time signatures and downtuned riffs into ascendant, widescreen climaxes. A-GH's usual intricate tremolo-picked guitars, thunderous bass, and abyssal vocals are all uplifted by Fox's ferocious drum performance. Their work blossoms on lead single "Barge of Light," replete with quicksilver guitar passages, instrumental calm, and an ecstatic climax emblematic of the album as a whole.
Since writing Blight Year, the maturation of Ballantyne's perspective has proven profound. "I was struck by the realization that, when I recorded those songs, I was talking to myself," he explains. On the five-minute battering ram "Chaoscene Hell," he describes what he imagined: a narrator feeling trapped and isolated trudges through the rain, wishing for a way out. Ballantyne eventually found an exit. "There is supposed to be a way through," he says, and clarifies: "There is always a way through." From the depths of summer, Blight Year is proof.
releases August 25, 2023
Will Ballantyne - guitars, vocals, bass, synthesizers
Greg Fox - drums
All guitars, vocals, bass, and keys were performed and recorded by Will Ballantyne in British Columbia
All drums were performed and recorded by Greg Fox at Studio Te
Tracks 1 & 2 engineered by Adam Reich at Studio Te
Amped, mixed and mastered by Colin Marston at Menegroth the Thousand Caves
Cover photography by Madison Dinelle
Design and layout by Jesse Osborne-Lanthier
Synthesizer at the beginning of track 1 and synthesizer melody in track 9 received with gratitude from Colin Marston and Ali Silver, respectively